Quality Systems
We are dedicated to providing the latest quality technologies to provide the best service to our customers
ISO/IEC 17025 Accredited through the  Laboratory Accreditation Bureau.
Active Scale Manufacturing Inc. has met the requirements and demonstrated our technical competency for testing and calibration of weighing devices in accordance with the ISO/IEC 17025:2005 standard Active Scale Quality Management System meets the requirements of our accreditation body, the Laboratory Accreditation Bureau (LAB). A copy of our certification and Scope of Accreditation is available for viewing.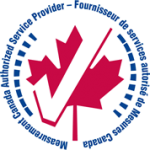 We are a Measurement Canada Authorized service provider.
Active Scale is and Authorized Service Provider (ASP) accredited by Measurement Canada to perform Examinations of Gravimetric Device for the purpose of Certification on behalf of Measurement Canada. We have been an ASP since 2007 and performed thousands of certificates. Our scope includes Industrial platform scales, Commercial platform scales, crane scales, hopper and truck scales, overhead rail scales, high capacity custom devices, truck scales, and railroad track scales. To earn this privilege, Active Scale maintains an ISO based Quality Management System audited annually by Measurement Canada. Our recognized technicians are trained and tested for competency.