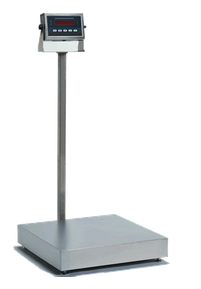 Floor model with optional column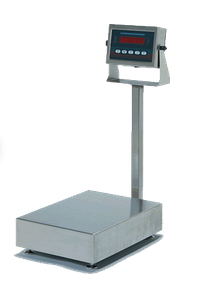 Bench model with optional column
Stainless steel washdown model shown
Heavy wall HSS construction
Easy to clean with removable cover
Sizes available from 12" x 12" to 30" x 30"
Capacities available from 5 kg/10 lb. to 500 kg/1000 lb.
Custom sizes and capacities available to suit your application.
Type approved for use in trade.
Approved in a ranges of sizes and capacities.
Heavy duty construction for industrial use and long life.
Removable 304 stainless steel platform cover on all models.
Overload protection provided by using mechanical overload stops on all corners.
Four adjustable levelling feet and level indicator.
All stainless steel construction.
Indicator column, attached or remote.
Battery powered models.
Various indicators available to suit your needs.
Remote displays.
Installation in electrically hazardous areas.
Fixed and wheeled stands.
Bench scales start at $695. For pricing on specific models please contact
erica@activescale.com